The world is changing, and it's not just the developing countries that are seeing changes. One of the most exciting places to teach ESL is Thailand, a country with a rich culture and history. Here are some things you need to know before teaching English in Thailand!
1) It's hot there all year round. The climate ranges from a humid tropical rainforest during the monsoon season to an arid desert during the dry season. Temperatures can range from 10 degrees Celsius (50 Fahrenheit) at night time to 35 degrees Celsius (95 Fahrenheit) on average, but they might get up as high as 40 degrees Celsius (104 Fahrenheit). It doesn't snow or freeze here, so prepare for sunshine no matter what time of year it is!
2) You'll be paid good money in Thailand. Why wouldn't you wanna teach ESL here? The average salary for a Western teacher is $1,500-2,000 USD/month, depending on qualifications and experience. It's a great way to be able to save some big bucks, which can be used the next time you travel around the world!
What are TEFL and ESL, and why teach them in Thailand?
What is TEFL, and why teach it in Thailand?
Teaching English as a Foreign Language (TEFL) in Thailand is a great way to earn money while discovering a new culture. Teaching English abroad opens up new opportunities for careers and lifelong learning, and it's a chance to learn about another country's culture.
There are many reasons why teaching ESL in Thailand is such an enticing opportunity. Not only does Thailand have one of the highest salaries for ESL teachers, but the country also has a rich culture that can be very different from what you're used to. Furthermore, by living with Thai people outside of the city or big tourist areas, you'll get to experience true Thai day-to-day life.
What is ESL?
ESL refers to "English as a Second Language." It is the paradigm of teaching language and culture, usually in countries where the native language and cultures are different from those of English-speaking countries. The focus on ESL is not only on English but also on other subjects that might be relevant to life in that country (such as geography or culture).
Why teach English in Thailand?
There are many reasons why teaching English in Thailand can be advantageous. Young people are eager to learn new skills and ways of living. Teaching abroad helps them have access to a better life with more opportunities. Thailand also has a largely untouched ecosystem, so there's plenty of opportunity for exploration!
You can live and work in one of the biggest cities in the world! Doing a TEFL course in Bangkok would allow you to stay long-term and explore as much as you can. Enjoy the hustle and bustle of this megacity and its amazing nightlife.
How to earn your TEFL/TESOL and Teach and Travel in Thailand
There are many TEFL/ TESOL courses on offer in the Kingdom of Thailand. It will depend on where you would like to spend the four weeks. Most TEFL training courses in Thailand are between 120-140 hours and must be passed to earn your TEFL certification.
You can find many TEFL courses by checking on Google, but with so many to choose from, it can be confusing.
Bangkok is the most popular destination for people that want to teach English in Thailand because of the nightlife, atmosphere, it is very easy to find jobs there, and it is home to the best TEFL course in Thailand.
This TEFL course is 140 hours over 4 weeks in the heart of Bangkok. You will receive your training, teaching practice with students, have day trips to see the tourist attractions and of course, enjoy Bangkok's infamous nightlife and head for a drink at Soi Cowboy with the other teachers.
We highly recommend this course if it is your first time teaching English or visiting Thailand. You get to be in a group of people on the same journey as you, which means you won't be alone in a big new city and you can enjoy the experience together, and you make friends that will all be working nearby.
But you are not restricted to getting your TEFL certification in Bangkok. There are courses around the country, for example in Chiang Mai and Hua Hin, which are also amazing destinations!
It is essential to remember that after the course, if you want to teach English in Thailand, you have to start looking for teaching jobs. The TEFL school should organise interviews as part of the package. But most teaching jobs are in Bangkok as there are 10 million people living there. If you do your course in another city or town that does not have many jobs to offer, you will have to relocate after the TEFL course.
If you do the course in Chiang Mai and there are ten people in your course and only five teaching jobs in Chiang Mai, you may have to start looking elsewhere like Bangkok. It is usually not a huge deal, but for people who book accommodation, pay deposits and sign 3-12 month contracts/ leases, it could be a sticky situation, and something people may not think about before setting off on their adventure!
When is the best time to teach English in Thailand?
Schools in Thailand begin in May and end in March, with breaks in November. You will see most schools hiring around the month of August, but there is no wrong time to begin to teach English in Thailand.
There are always positions available and not enough teachers to fill them! There are teachers whose contracts have ended, or they had to return home for whatever reason. Language schools are constantly expanding and opening new branches, which is excellent for those looking to teach abroad.
Salary for teaching English in Thailand
The average salary for people that teach abroad is $1,250-2,000 USD/month, depending on qualifications and experience. It's a great way to be able to save some big bucks, which can be used the next time you travel around the globe!
If you are thinking to yourself that this isn't a lot of money compared to what you earn back home, you must consider the difference in the cost of living in Thailand. Rent and bill are a quarter or a third of the price most of us are used to.
You will easily find yourself with extra savings at the end of the month. You will also usually be paid monthly, which can be something to be mindful of. Some people find it hard to adjust to for the first time!
Check out how long you can live in Thailand with $1000 USD. You might be surprised!
Teaching qualifications for teaching ESL in Thailand
To teach English in Thailand, you need to obtain an ESL certificate. You can do this by completing a TEFL course or teaching certification. There are a number of online TEFL courses available, which range from $200-$500 USD. You can also find local teaching certification programs in Thailand that will cost as little as $50 USD.
A few things to keep in mind:
1) The Thai government only recognises the certificate you received AND your passport (or other documents depending on the country you're from)
2) Most TEFL courses will provide you with a certificate, which is the only teaching certificate recognised by the Thai government.
3) If you hold an ESL teaching certificate from another country or your own country, it may not be valid in Thailand. The easiest way to figure out if your certificate is valid in Thailand is to contact the Ministry of Education (MOE).
Is teaching experience required to teach ESL in Thailand?
You are not required to have previous teaching experience in most schools. You may come across some that do, and they will have a higher salary. If you have prior teaching experience, this is good news as you have more options.
For those without, please don't fret. With the demand for English teachers at an all-time high in Thailand and all Southeast Asia, schools are aware that most people have not worked in schools before and therefore have not made it a requirement.
If you have a degree, a TEFL certificate, and by being a native English speaker, it is enough to teach English in Thailand.
Things you should know about the culture before going to teach abroad (e.g., Thai people are very polite, but if you're not careful, they'll take advantage of your politeness)
It is essential to be aware of the cultural differences in Thailand before you decide on teaching English there. Thai people look at themselves as very polite, and it is easy to take advantage of this. For example, if you do not want someone coming into your house uninvited, politely tell them that it is a bad time for visitors or you are busy with work.
Thai people are indeed very polite! A lot of Westerners find it challenging to live in Thailand because the culture is so different. It is essential to keep this in mind when teaching English here; Thai people may not understand Western humour or sarcasm, for example.
Things you should know about how Thai culture differs from yours (e.g., Thailand is a Buddhist country, and some laws prevent monks and other religious figures from being portrayed). You cannot use the image of Buddha or a member of the royal family in an unflattering or insulting way.
Thai people rarely use handshakes or hugs to greet each other, and it is even rarer to fist bump. In Thailand, everyone greets each other with the Wai.
The Wai is when you put your hands together, so each finger touches its counterpart, you touch the middle of your chest with your thumbs and nod your head downwards to touch your index fingers.
The climate of Thailand
The climate of Thailand is a tropical wet, and dry climate. The temperature typically ranges anywhere from 10 degrees Celsius to 35 degrees Celsius/ 48 Fahrenheit to 95 Fahrenheit. Thailand lacks snowfall during the winter months (November-April) because it does not usually get below freezing. The country experiences two seasons, the hot season and the cool season, which varies a bit from the typical definition for these terms. These seasons change every year, so it is best to check the weather forecast before going anywhere. Thailand does not receive much rain during the rainy season (June-October), and storm activity during this time of year is rare.
Tips for living and working abroad (e.g., learn some basic Thai phrases)
When teaching English abroad, you will need to learn some basic Thai phrases. This is a language spoken by the people living in Thailand and is also the national language of this country. Learning some basic Thai phrases will help you to communicate with the locals as well as make connections with your students. Learning some basic Thai phrases such as hello, thank you and yes will allow you to communicate with the locals. If a teacher who is teaching English in Thailand doesn't know how to say these words, it will be difficult for them to gain the trust of their students. As well, if a teacher doesn't know any simple phrases in this language, it will be difficult for them to make friends with locals. Learning some basic phrases will allow the teacher to enjoy their time in a new city or country.
Is teaching English in Thailand worth it?
First of all, teaching English abroad can be a lucrative field for people with the right skill set who enjoy working with people and using language creatively. Secondly, many people love to travel, and this is an opportunity for them to do so while they are teaching ESL abroad.
There is a great demand for English teachers in Thailand because of the growing middle class. However, teaching ESL abroad can be difficult if you don't plan and prepare properly before heading to your destination country. Luckily for you, teaching English in Thailand is easy because you will truly enjoy your job, and it's rewarding.
When you teach English in Thailand, you are building experience for your teaching career and personally as you will learn skills that will stand with you throughout your life.
You get to travel to different parts of the country and have many amazing experiences. You are not travelling halfway around the world just to teach English in Thailand, and you are going for the all-around experience of being in another culture and exploring different places.
You will have two days off per week, sometimes more, and you will have many public holidays to attend the many festivals such as Songkran in April. Songkran is the Thai new year, and it involves many water guns and getting soaking wet.
Are English teachers in demand in Thailand?
There is a massive demand for people to come to teach English in Thailand. All years long, you can find open teaching positions. The English language is booming in Thailand as many people want to travel and work in Europe and America.
There is also a pretty high demand for qualified English teachers across Southeast Asian countries. In general, English is becoming increasingly popular as more people learn how to speak it at an advanced level. There can be some limitations when it comes to finding jobs teaching languages other than English.
So what does a typical English teaching day look like in Thailand?
If you are looking for a rewarding, stress-free job teaching ESL abroad, then this might not be the best choice for you. Teaching ESL can be very stressful, and it requires a lot of hours from teachers. The average workday is between 8 AM and 9 PM, and you are most likely needed to work on weekends. With that being said, the workload is not very heavy when compared to jobs in other fields. Teachers usually spend their day preparing lesson plans, having class time, grading papers, and holding office hours. Some teachers plan activities outside of class time for students, such as field trips and playing games. This is the average time for how long ESL teachers work in Thailand. Extra hours are sometimes required, but they are compensated fairly well on top of their regular salary.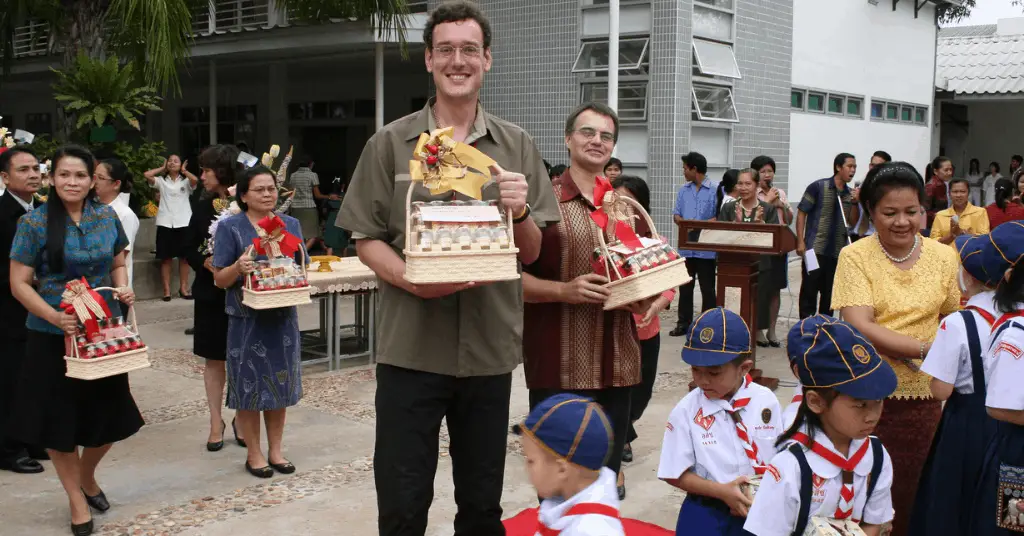 How to find teaching jobs in Thailand
Teachers in Thailand can find teaching jobs by searching for schools and contacting them. Schools often have job listings where you simply apply to be a teacher in Thailand, or they can be found online. There are many websites online that advertise jobs for teachers, and it is best to contact these sites directly if you would like more information about teaching ESL in Thailand.
However, when applying for a teaching job online, you need to make sure that you don't get scammed! There are many "schools" in Thailand that scam teachers by promising them a job. This is the biggest way to be scammed out of money as a teacher, so it's best to plan ahead and take care of these things before travelling to your destination country!
How to apply as a teacher in Thailand
You can get help finding a job in Thailand, or you can do it solo. If it is your first time teaching abroad and you are looking to get a TEFL certificate, take the course in Bangkok and let the school organise interviews in local schools for you. Since you will be recommended by the TEFL school, you will have a much higher chance of securing the job.
If you already have TEFL certification, you can contact the school you trained with, and they should assist you in finding a teaching job. You can also search online; there are many TEFL job sites and groups on Facebook dedicated to this. Be wary of scam jobs!!
You should organise your CV/ Resume in the correct manner and prepare for the interview. Here's a tip, if they ask you about your personality, say you're laidback. This is preferred as Thai people are laidback also. I did it, and the interviewer said that was the perfect answer!
TEFL Jobs in Thailand
There are countless TEFL jobs available for foreign teachers in Thailand. From public schools, private tutoring, language schools, and even teaching university students. Once you are a native English speaker with a bachelor's degree and TEFL certification, you are guaranteed job placement.
(For anyone wondering What is TEFL?, it means teaching English as a foreign language.)
You are not required to have prior teaching experience to teach English in Thailand, so do not let that put you off. Teaching experience does not always mean working in a school. You can have prior teaching experience from coaching a kids sports team, training staff at a previous job or even helping your brothers and sisters with homework.
How to further increase your salary while teaching English in Thailand
Here are some ways to increase your income or salary:
Many jobs in Thailand advertise two salary prices, e.g. 30,000- 40,000 THB. They state that your salary will depend on your qualifications and experience. You can negotiate during your contract to increase your salary within this price gap. If you have been working hard and you feel like you deserve a pay rise, you should ask for it. It will be more expensive for the school to find a replacement for you and to train them so they may comply with your wish (if you are doing a good job, of course).
You can enquire about overtime and put your name down for when you will be required.
Join an online platform to teach English online. Most online platforms require native English speakers with TEFL certification. You will also need access to a laptop with a camera and WiFi.
Find out if there are any classes that need substitutes or lecturers. This could be a fantastic way to supplement your income as an ESL teacher in Thailand!
Ask the other teachers if they would like some time off to travel, and you can cover their classes.
Visa Options for Teaching Abroad in Thailand
The non-immigrant B visa is what TEFL teachers must apply for before teaching English in Thailand. You can apply for this visa at the Thai Embassy in your home country or the nearest country to you.
The application process is very straightforward. In most cases, you do not have to attend the embassy; you can post your passport and other documents to the embassy or online. You will need an invitation letter from a school to prove that you are going to teach English in Thailand and a certified criminal background check.
Once you begin working in Thailand, your school will start to assist you in the process of getting a work permit and a Thai bank account. You will need the work permit to prove you are part of the workforce in Thailand and that you are paying taxes, and the bank account is for your salary.
More information can be found on the Thai Ministry website.
Can I teach English in Private and International Schools in Thailand?
Public schools are the most common and popular schools to teach English in Thailand because they have good hours and a reliable salary. But many people prefer to teach in an international or private school rather than public schools because:
Better infrastructure. Not all public schools have air conditioning in the classrooms which can be challenging for some people.
The pay in international schools is usually quite good, as is the salary from private schools. It is not much more than a public school but who doesn't prefer more money…
Better amenities. Private and International schools earn a substantial amount of money. They can afford to invest in the school to attract more students. This can include swimming pools, state of the art gyms and much more.
It can sometimes be more professional. Since most teachers work in language centres where the turnover is high, and many teachers use the position to get themselves into Thailand to party rather than work. International and private schools filter out these types of teachers and find the dedicated ones. This is why you rarely see job openings for these schools because the teachers choose to stay there for most of their careers.
Will I face age restrictions teaching English in Thailand?
There are no required age restrictions to teach English in Thailand. However, some schools may have their own requirements. Since you must have a degree to work in Thai schools, the minimum age requirement can be 21 in many schools.
If you are wondering if you are above the threshold, then put your mind at ease. Many schools would prefer teachers in their 40s, 50s and 60s for the amount of work and life experience they would bring to the position. You would also have a great chance of securing Engish teaching jobs in the more sought after international and private schools.
Since Asian culture can sometimes be all about appearance, having a mature teacher can be seen as very privileged, and most schools often believe it will encourage more parents to enrol their children. It isn't something you would see in Western schools, but it's good news if you fit the description!
9 reasons why people love teaching English in Thailand
Thailand is one of the most popular countries to teach English in, especially if it is your first time teaching abroad. Here are some reasons you may be interested!
The unbeatable location: Thailand has a stunning amount of beautiful beaches and islands that you can visit and enjoy for just a day or two during weekends or holidays/ semester breaks from teaching
The low cost of living is a huge attraction for many travellers. Eating out or having a few drinks with friends will cost a fraction of what it costs in your home country.
To be a teacher is one of the most coveted positions in Thai culture. Since Buddha was a teacher, many Thai people have great respect for teachers.
When you teach abroad in Thailand, you get to experience a tropical climate. Some of you may already be used to this, but for people from Canada, Ireland and the UK, it is a true perk!
To teach English in Thailand, you generally do not require any prior teaching credentials or for you to have taught English previously. This is great for newly qualified teachers that want to gain experience, people who are considering a teaching career but want to test the waters before beginning a teaching degree and people who want to live in Southeast Asia and are native English speakers but have never taught English before.
The students are awesome! So warm and friendly, and they will make you laugh all day long.
It is incredibly diverse. You have the insane party town of Pattaya where literally anything goes. Then you have the quiet tropical islands such as Koh Samet to escape to. There is the epic madness of Bangkok and all its amazing inhabitants, and you have beautiful scenery like at the Phi Phi Islands.
The food is another big thing people love about Thailand. Pretty much everything is different from what we are used to, but it is delicious. The night markets and street food are what you will find yourself seeking out most days. If you miss the taste of home, you can always find that too, as there are many American fast-food chains and most restaurants serve Western food.
You are abroad and having an adventure and not stuck in the same routine as back home! Which story do you think will sound better when you are older, the couple years you taught English in Thailand or the couple years you stayed in the same job at home and went away for a weekend that one time?
Let's wrap it up…
So there is all the information we have to share on how to teach English in Thailand. Feel free to leave your two cents below if you have any further queries or if you have an experience in Thailand you'd like to share!
If you're looking to teach English abroad, there are plenty of great places, but Thailand is one of the most popular. The low cost of living and warm people make it a wonderful place for teaching ESL in Asia. If you want more information on how to get started with this opportunity, contact us today!